March 6, 2020
Birmingham VA Medical Center

Our highest responsibility at the Birmingham VA Medical Center and its community based outpatient clinics (CBOCs) is the health and safety of our Veterans, family members and staff. We continue to work closely with public health officials, including the U.S. Centers for Disease Control and Prevention (CDC), to monitor, screen and implement best practices to protect the health of our Veterans and staff as it relates to COVID-19 (coronavirus), Influenza, and other illnesses. Our monitoring, screening and operational protocols are designed to be flexible so that we can effectively adapt to changes as they occur.

Our goal is to protect patients and staff, prepare for any possible influx of patients with suspected/confirmed COVID-19, and limit the spread of COVID-19 transmission. In an effort to reduce the impact of COVID-19 and other illnesses, the Birmingham VA Medical Center and its CBOCs asks patients, staff and visitors to help slow the spread of infection. Effective immediately, visitations to the Birmingham VA Medical Center and its CBOCs are limited. All visitors are reminded to wash hands with soap and water or use alcohol-based hand sanitizer before and after visitation.
We are following CDC and other public health guidelines. We are encouraging Veterans experiencing the following symptoms: fever, cough, and shortness of breath, please call yourlocal VA healthcare facility and select the option to speak to a nurse before visiting the facility. Stay at home, phone in and tell your providers about your symptoms and any recent travel.
In addition to calling first, consider using VA's telehealth and virtual care options. VA's telehealth providers can evaluate your symptoms and provide a diagnosis and comprehensive care, so you do not have to leave your home or office. Get VA's latest updates on COVID-19: https://www.publichealth.va.gov/n-coronavirus/index.asp.

​We assure you we are actively managing health and safety related issues at our medical facilities.
We appreciate your understanding and cooperation as we continue to provide healthcare to the Veterans we proudly serve daily.
Yours in health,
Stacy J. Vasquez
Medical Center Director
---
October 10, 2019
Greystone Neighbors Magazine
Remember Our Veterans - Salute To Veterans Ball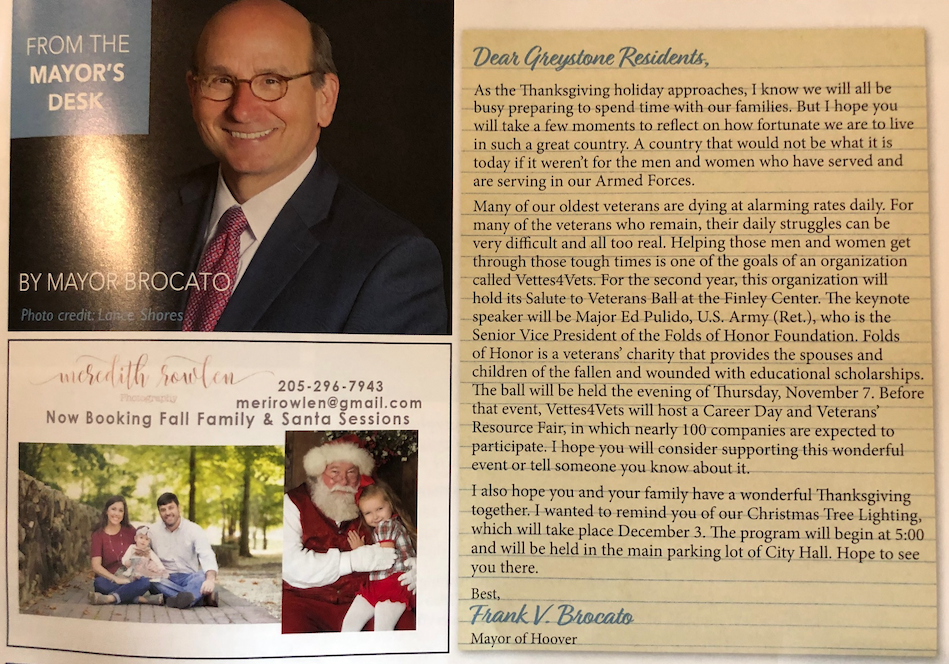 September 24, 2019



2019 Veteran of Influence Nomination
Congratulations! Major General David Burford will be honored as a Veteran of Influence by the Birmingham Business Journal! Join us for breakfast, as we honor nominees who have made a significant achievement in their careers in the past year. These nominees will have a strong record of innovation or outstanding performance in their work and be actively involved in our community. To be nominated, the individual must be a veteran of the U.S. military – Navy, Marines, Army, Coast Guard or Air Force, including reservists.

Our Veterans of Influence breakfast will be held Thursday, October 17th at The Harbert Center from 7:30a-9:30a. If you would like to celebrate Major General Burford's honor at the event, I have attached the available sponsorship packages. Each includes an advertisement to run in the BBJ that can be used to either congratulate him, or to run a branding ad for Vettes4Vets.
Honorees are selected from a public pool of nominations, submitted through BBJ.com/nominations, and are determined by a panel of editorial judges. The honorees are chosen based on their proven achievements within their business and community.
---
September 11, 2019
Transformation Ministries for Veterans
Rock Hobbs at Transformation Ministries is hosting their first retreat for Vets at the Yellowleaf Creek Mill in Calera from November 11th (Veterans Day) thru the 14th. Rock is requesting support in locating 6-8 Vets to attend the 3 day event that is geared to set men and women free from struggles with PTSD and other war related issues. The program is faith-based so participants will need to be open to that and have a DD214 to register. All costs except travel are covered. Additional info and flyers will be available soon. Rock's contact info below along a picture of the Mill. Al

Rock Hobbs, Pastor
Encourager & Friend Transformation Ministries
P.O. Box 282
Chelsea, AL 35043
(205)470-3830
rock@trministries.org
Transformation Ministries Retreat for Vets at the Yellowleaf Creek Mill
Link: "trministries.org"
---