October 10, 2019
Greystone Neighbors Magazine
Remember Our Veterans - Salute To Veterans Ball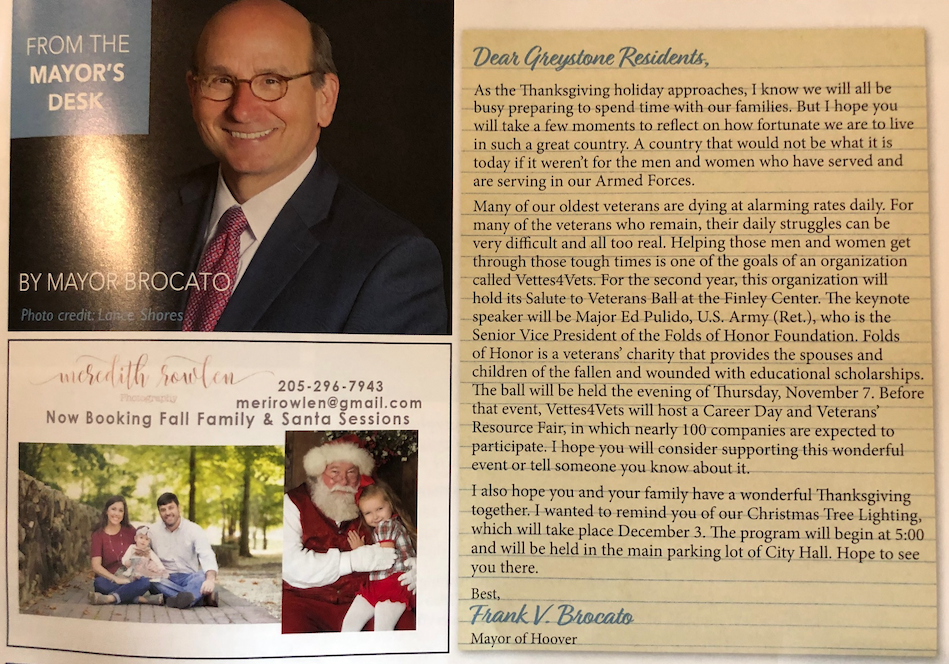 September 24, 2019



2019 Veteran of Influence Nomination
Congratulations! Major General David Burford will be honored as a Veteran of Influence by the Birmingham Business Journal! Join us for breakfast, as we honor nominees who have made a significant achievement in their careers in the past year. These nominees will have a strong record of innovation or outstanding performance in their work and be actively involved in our community. To be nominated, the individual must be a veteran of the U.S. military – Navy, Marines, Army, Coast Guard or Air Force, including reservists.

Our Veterans of Influence breakfast will be held Thursday, October 17th at The Harbert Center from 7:30a-9:30a. If you would like to celebrate Major General Burford's honor at the event, I have attached the available sponsorship packages. Each includes an advertisement to run in the BBJ that can be used to either congratulate him, or to run a branding ad for Vettes4Vets.
Honorees are selected from a public pool of nominations, submitted through BBJ.com/nominations, and are determined by a panel of editorial judges. The honorees are chosen based on their proven achievements within their business and community.
---
September 11, 2019
Transformation Ministries for Veterans
Rock Hobbs at Transformation Ministries is hosting their first retreat for Vets at the Yellowleaf Creek Mill in Calera from November 11th (Veterans Day) thru the 14th. Rock is requesting support in locating 6-8 Vets to attend the 3 day event that is geared to set men and women free from struggles with PTSD and other war related issues. The program is faith-based so participants will need to be open to that and have a DD214 to register. All costs except travel are covered. Additional info and flyers will be available soon. Rock's contact info below along a picture of the Mill. Al

Rock Hobbs, Pastor
Encourager & Friend Transformation Ministries
P.O. Box 282
Chelsea, AL 35043
(205)470-3830
rock@trministries.org
Transformation Ministries Retreat for Vets at the Yellowleaf Creek Mill
Link: "trministries.org"